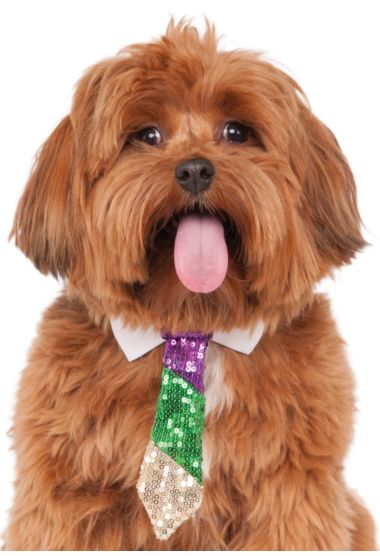 It's Carnival season – One of the most exciting, fun-filled times in Louisiana, when royalty reigns supreme and chasing floats is a form of exercise. From savoring king cake and fried chicken to watching parades while dressed in purple, green and gold, Mardi Gras can be enjoyed by all, including our pets. Like many animal lovers, pet parents want to include their furry friends in holiday celebrations and festivities, but how do we do so safely? While it can be fun to party with your pooch or kitty, it is also important to keep our fur babies safe and healthy, so dig into these simple tips.

One of the ways we can enjoy Mardi Gras with our pets is by catching a parade. The Mystic Krewe of Barkus parade, which hits the streets on Sunday, February 20, encourages human parade goers to bring their four-legged friends to revel in pet-approved entertainment, vendors, and a pooch-centric parade through the French Quarter. Other parades held throughout New Orleans can also be a fun activity for you and your pup, but it is important to keep in mind your dogs comfort level with crowds and loud noises. If your pooch enjoys the company of others but is overwhelmed by all of the excitement that comes with parades, we recommend joining a K9 Krewe, a private organization that hosts social gatherings and events specifically created for you and your pup. If your pet is more of a homebody and prefers the company of a few people at a time, small house parties are a great alternative for you and your friends to have a ball with your fur babies. Celebrating Mardi Gras at home with your pet can include making a dog-friendly king cake, dressing your dog or cat up in festive and simple costumes, and live-streaming Mardi Gras festivities. At the end of the day, you want to make sure that your pet isn't overwhelmed by Carnival rituals and that they are in a safe, comfortable environment.

Dressing up your pet in a costume can be fun, especially when there are hundreds of choices for your pet to express his or her Mardi Gras spirit. However, it is important to prioritize your pet's comfort when putting them in an outfit they wouldn't normally wear. A good rule of thumb is to only put your pet in a costume if they enjoy it, or more likely tolerate it. Be sure that their costume isn't restrictive, and they are still able to breathe, play, see, and can bark or meow while wearing it. When dressing your pet up, you also want to ensure that there aren't any small pieces that your pet could chew off and possibly swallow (it's also important to be conscious of small festive pieces that you might be using to decorate your costume such as glitter, beads, and pom poms as these items can easily become a choking hazard.) If your pet is clearly uncomfortable sporting a costume, don't force them into wearing one, which can cause undue stress. Instead, try putting on a festive bandana, small hair bow or decorative collar that they won't mind. With a simple costume, your pet will still look the part and will enjoy Mardi Gras a lot more!

Another way to ensure that our pets are safe during Carnival is by only feeding them pet-friendly foods. Although it can be tempting to give your dog or cat a nibble of king cake or piece of party food, it can potentially put their health at risk. Instead of feeding your pet from your plate, whip up some dog or cat-friendly snacks before the festivities begin, so you and your pet can happily graze together! Making a pet-friendly king cake or picking up some cute Mardi Gras themed treats is a sure-fire way of giving them a safe taste of Carnival. We suggest making a simple king cake out of flour, vanilla, cinnamon, peanut butter, honey, water, cooking oil and baking soda and decorating it with plain yogurt as the frosting. Or try pouring some broth into a cup for a pup-friendly cocktail. Be sure not to give your pet any alcohol, as it can be dangerous for your furry friend and can cause lasting harm.

Lastly, it is important to make sure that small decorations are out of reach from your pet. Things such as beads, rhinestones, and glitter can be quite tempting, but also very harmful to any animal that ingests them. If your pet does happen to eat something they're not supposed to, be sure to watch for signs of distress such as vomiting and lethargy, and while your normal vet office might be closed, there are 24-hour emergency vet clinics:

• Avenue Animal Wellness and Emergency – 1401 St. Charles Ave. in New Orleans – 504-2658659

• MedVet – 2315 North Causeway Blvd in Metairie – 504-835-8508

Happy Mardi Gras to all our two and four-legged friends, from the Louisiana SPCA!