About Pup & Purr Magazine
The Tail of Pup & Purr Magazine...
Like many things to emerge from 2020, Pup & Purr Magazine began as a pivot for Donna Horowitz and Cheryl Lemoine. Both were working in the tourism industry in New Orleans, which suddenly came to halt. As in-person meetings gave way to virtual ones, Donna began to take note of the number of people who, intentionally or not, had a four-legged friend front and center. She also noticed the growing number of comments on social media pertaining to the addition of a new fur baby or the solicitation of advice regarding pet needs.
What began as a casual "catch-up" phone call between two long-time friends and business associates turned into a "what's in store for the future" discussion. When Donna, a veteran media executive who has published a myriad of publications over the past 15 years, mentioned the idea of possibly creating a local pet magazine, Cheryl's ears immediately perked up! The marketing and journalism professional and proud dog mom to three precocious Chihuahuas, Cheryl immediately began dreaming up ideas for their new pet project.
After a couple of meetings and some research, it quickly became clear to the duo that timing was perfect after a record year for four-legged companion adoptions and an ever-growing pet industry. Donna and Cheryl wanted to help people return to a happier, more peaceful place, and they knew that pets have an uncanny ability to do just that.
We are elated to unleash
Pup & Purr Magazine
, created especially for pet people and animal lovers. Our goal is to provide fun, engaging, inspirational, and educational stories along with pertinent resources that enhance the lives of fur babies and their human companions. We hope that you enjoy our "pet project" as much as we enjoy bringing you all scoop without the poop!
Wags,
Donna and Cheryl
---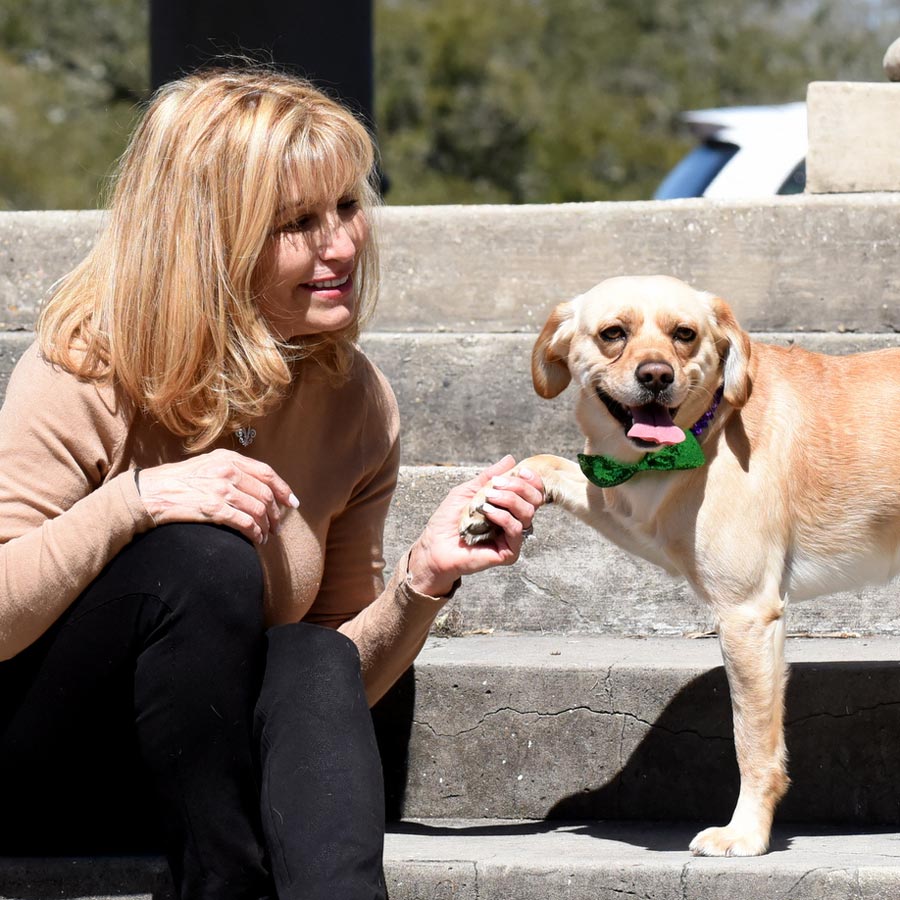 Donna Horowitz, Top Dog aka Publisher
Growing up with two rambunctious brothers and a sister made for a lively and interesting childhood for Donna, to say the least. Then add to the mix a menagerie of family pets ranging from puppies and kittens to snakes, hamsters, mice, turtles, and a parakeet or two along the way. One (aka Donna's mom) would say that the family had their very own petting zoo.
Donna was the softhearted, unapologetic rescuer of the family, who would bring home any and every stray that needed love and attention. Even their yellow parakeet was rescued after being found fluttering near a Delta Airline jet as the family was seeing mom off. So, it was only fitting that the family name the bird Delta. Donna's innate need to rescue endured as a single mother of three children. She continued to open her arms and doors, adopting a couple of stray puppies to eventually become a family of six. Today Donna is the proud doting grandmother of two precious pooches and one fancy feline.
As the publisher of multiple print publications and a seasoned advertising professional with more than 25 years of experience, Donna always kept her eyes and ears open to the next community need. With animal adoptions on the rise and a more and more pet companions catering to their fur baby's every desire, it became apparent to Donna that there was a growing need for a publication that focused solely on the welfare and lifestyle of family pets. And so was born
Pup & Purr Magazine
, which she is excited and honored to unleash to the Greater New Orleans area and beyond.
A native New Orleanian, Donna has an unbridled passion and love for her community. She is an active member of Skål International, the world's largest global network of tourism professionals. She is also a member of Mid South Women in Tourism and proudly serves on the board for the French Quarter Business Association. Donna has sponsored and co-organized several charitable events including the New Orleans Jazz Museum's Improvisations Gala and Dirty Linen Night, a unique gallery stroll throughout the French Quarter. Donna looks forward to bringing the same enthusiasm and dedication to
Pup & Purr Magazine
.
---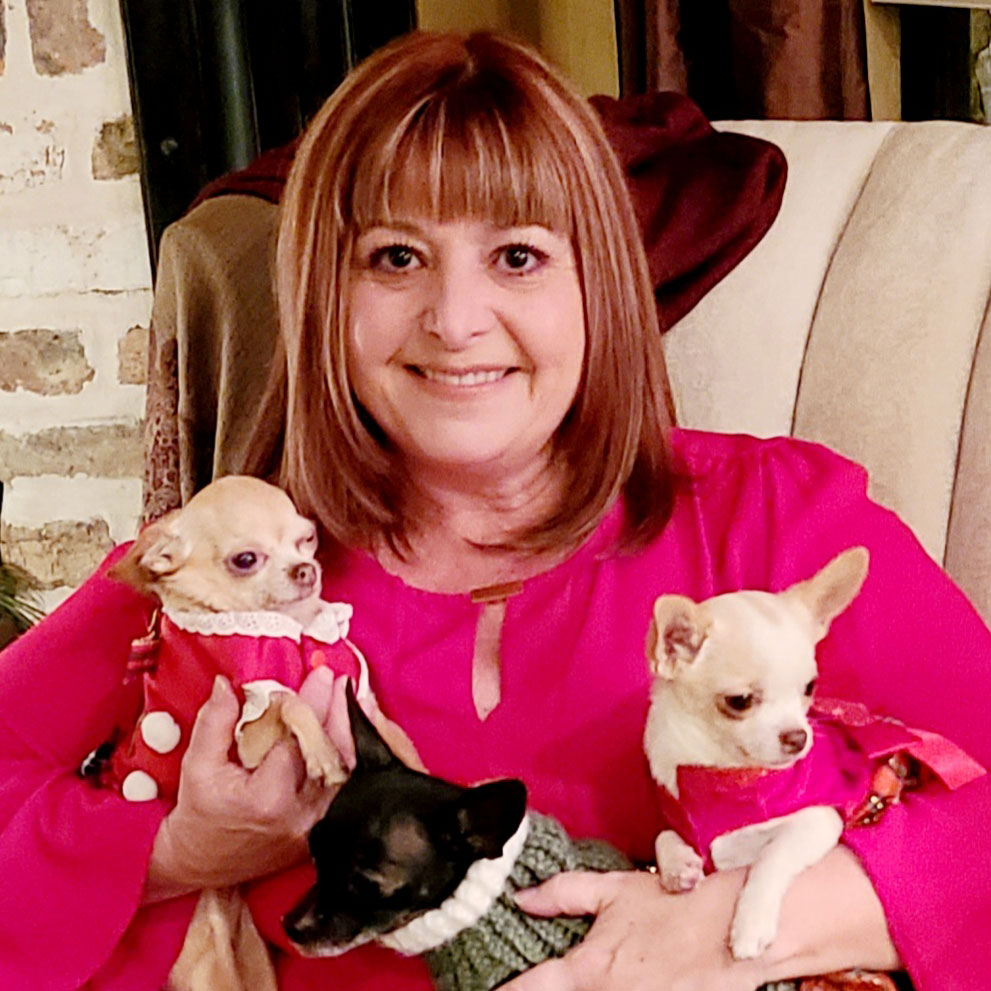 Cheryl Lemoine, Pack Leader aka Executive Editor
The proud mom of three rescue Chihuahuas, Cheryl has shared the majority of her life with pets including dogs, fish, cats and even a turtle. Her fascination with animals began in grammar school after watching a documentary about legendary chimpanzee expert Jane Goodall. "I remember coming home from school that day and telling my mom that I had figured out what I wanted to be when I grew up-- a monkey studier, I enthusiastically proclaimed!" While that dream was never realized, Cheryl is thrilled to be a founding partner of
Pup & Purr Magazine
and looks forward to bringing fun, engaging and informative articles to the animal loving community.
Born and raised in the New Orleans area, Cheryl graduated from Louisiana State University with a BA in Journalism. She discovered a passion for marketing, public relations, advertising, and event planning as an intern with the Audubon Nature Institute when assisting with the opening of the Aquarium of the Americas. Having spent nearly 10 years in the magazine industry, Cheryl is delighted to combine her love of animals with her media expertise.
A devotee of all things New Orleans, Cheryl writes a food column for The French Quarterly Magazine and regularly attends local festivals and cultural events. She is a supporter of several charities including the LA SPCA, New Orleans Jazz Museum, New Orleans City Park, and Audubon Nature Institute. She and her husband enjoy spending time with their beloved Chihuahua fur babies, traveling, entertaining and experiencing the best of NOLA.