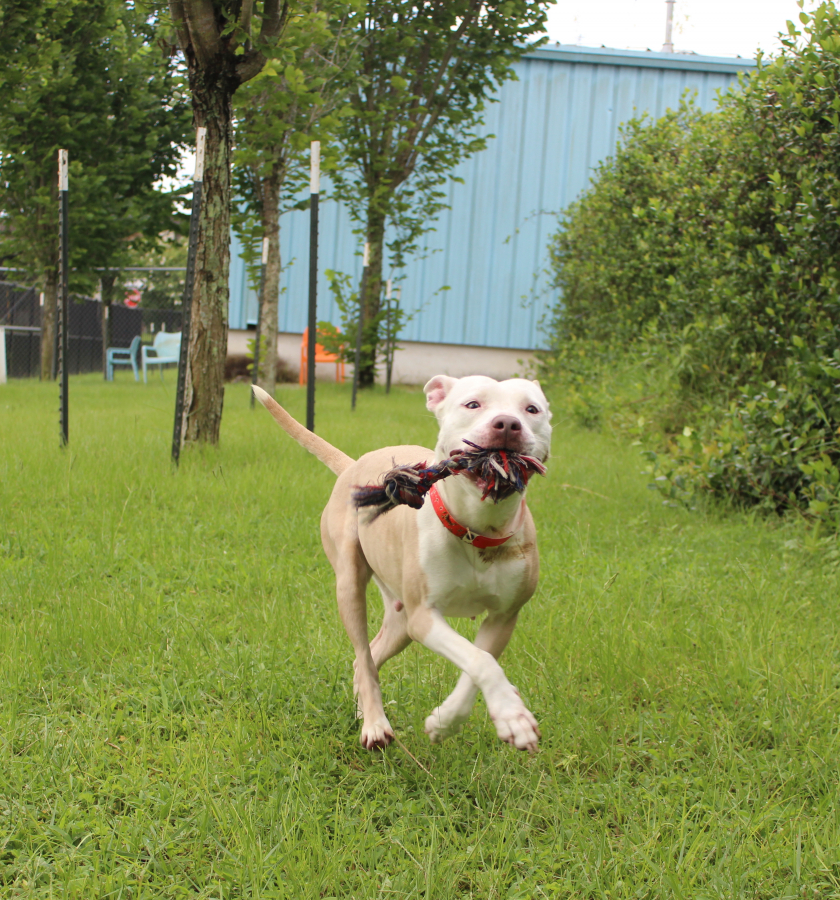 With our social calendars filling with fall holidays and football games, now is the time to consider including your pets in your activities. While the cooler weather and fall festivities encourage outings with your pet, their safety should be your top priority. Louisiana and New Orleans specifically, has laws designed to keep animals protected. Though they seem silly at times, following them will help protect your pet.
The Louisiana SPCA, chartered in 1888 to stop the mistreatment of working mules and horses in the French Quarter, has dedicated over 130 years to keeping animals safe. We have worked with several law makers, at local and state levels, to make that happen. Knowing the laws in your parish, city and state are critical to keeping your pet prepared and safe. Leash Laws
First thing to pack if you are bringing your pet outside of the home: a leash! Whether your pet does better on a harness or collar, leashes are essential. It's illegal to have your pets in public unleashed. The New Orleans Municipal Code states, "Dogs which are properly licensed and vaccinated as stipulated in this chapter may be allowed outside of an enclosure if under a secure leash and accompanied by their owner or keeper…"
While your dog may be friendly to other people and animals, that may not be the case for everyone else. If your dog approaches another dog who happens to not like other dogs, that dog may try to defend its personal space, and someone or some dog can get seriously injured. Additionally, some people fear dogs, and you wouldn't want your dog jumping on them or greeting them if they are uncomfortable with it. If your dog is friendly and ready to run unleashed, an enclosed dog park would be the perfect place for a game of fetch or play time with other friendly dogs.
What to Know if You Lost Your Pet
Any time you have guests over, there's a chance your dog could be frightened by the presence of unfamiliar people where they live. Whether it's a Saints viewing party at your place or trick-or-treaters, we suggest keeping an extra eye on your pets as the door opens and closes. If there are loud noises or unordinary things going on, your pet may bolt out the door the first chance they get. We recommend always preparing for a lost pet because of its likelihood. If your pet is microchipped and wearing an ID tag, your chances of being reunited with them automatically improve! If you do lose your pet, we recommend checking with your local shelters. Remember that every shelter has a stray hold period, a period of time where they hold the animal before processing it for adoption in order to give that animal a chance to reunite with their family. Each parish's hold period is different. For example, in Orleans Parish it's three days; in Jefferson Parish, it's five. If you have your address listed on the ID tag, and it's present on the animal when they come to us, Louisiana law requires that the animal be held for seven days.
Humane Law & Rescue
It's the Louisiana SPCA's mission to promote, protect and advance the well-being of our companion animals, but we couldn't do it without the help of our community. Whether it's donors helping us assist families in need, foster parents opening their homes when temporary housing is needed, or adopters opening their hearts to a new family member, our mission could not be accomplished without the assistance of the community. While we have a contract with the City of New Orleans to provide animal services to the entire parish, we rely on members of our community to tell us when animals need our help and rescue.
Our Humane Law & Rescue team's focus is to provide high quality, compassionate care for the animals we rescue and shelter, with a responsiveness to community needs, aligned with the funding allocated by the city each year. Currently, we provide field response four days a week and emergency response 24/7. If you see an animal in trouble, distressed, or suspect cruelty or neglect we urge you to call 311 if it is not an emergency and 911 if it is an emergency. We've partnered with first responders to provide better support to our community for animal issues. Our officers will still respond to animal control calls, but by routing all requests through the city, we can collaborate better with other emergency services like police, fire and EMS.
When to Call New Orleans Humane Law & Rescue
New Orleans Humane Law & Rescue enforce local animal law. While most pet owners know their local laws, some genuinely do not and we try to educate first. We urge everyone who has a pet to read Chapter 18 to understand the laws concerning their pets, and call us if they have any questions. For example, dogs that live outside must have a shelter made of five solid sides and placed in an area free of debris, feces and standing water. Their shelter must be elevated so that no standing water enters and be large enough for the animal to stand, turn around, and lie down on the inside without touching the sides or top of the shelter. If an animal has access to its own food bowl, clean water and proper shelter are the minimum standards of care that have been met so long as no other laws, such as tethering have been breached. If you see a dog that doesn't have access to proper shelter, food or water please call 311 to report it.
Another common call we get is related to dogs that are tethered. Tethering in Orleans Parish is illegal, unless the dog is tethered to a pulley or trolley system which allows for proper movement. Under no circumstances should a dog ever be tethered to a chain, or at all if they are not spayed or neutered. While we want pet owners and their pets to have a great time, we want them to do so safely and legally. Education is key. The more you know about the laws in your area, the safer your pet will be. If you are unsure of any local law concerning your pet, you can ask us any questions at
info@laspca.org
or call us at 504.368.5191. If you suspect animal cruelty or neglect report it to New Orleans Humane Law & Rescue by calling 311, or 911 if it's an emergency.