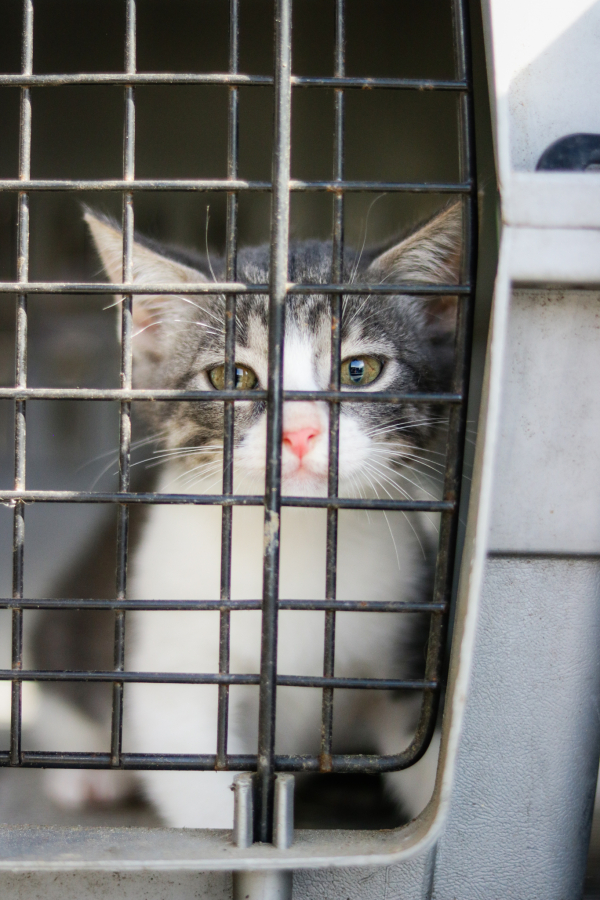 Just like most of Southeast Louisiana, the Louisiana SPCA is no stranger to hurricanes. June 1 was the first official day of hurricane season. The time to plan and prepare is now! The National Weather Service is predicting yet another active Atlantic Hurricane season. With that in mind, we want to urge pet-owners to create an evacuation plan that includes their pets. They are members of the family and should be included in all disaster preparations. The Louisiana SPCA has been around since 1888. We've learned a thing or two about pets and hurricanes because we've seen and been through hundreds of them, though most of our modern-day learning came from Hurricane Katrina in 2005.

This storm brought to light many issues surrounding animals:
• Animals must be included in evacuation plans on a local, state, and national level. This not only saves animal lives, but humans lives as well.

• Reuniting pets with their owners is critical in times of disaster. Without being able to reunite pets and owners, shelters quickly fill up, ensuing chaos.

• Katrina brought national attention to the pet overpopulation problem in New Orleans and the Gulf Coast

• Katrina revealed that the human–animal bond is an essential part of our lives. During times of disaster, it's as critical as food, water, and shelter.
Based on a Fritz Institute poll, 44% of people did not evacuate for Katrina because they refused to leave their pets behind. Even those who chose to stay behind and were later rescued by first responders were not permitted to take their pets. As a response, in 2006, we successfully lobbied for the passage of House Resolution 3858—better known as the "Pet Evacuation Bill." Currently governments on all levels are required to include companion animals in their evacuation plans.
Partnered with a global pandemic, the 2020 Hurricane season was far from easy—Louisiana was hit five times. One of the most devastating storms, Hurricane Laura, made landfall on August 27 in Cameron, Louisiana. It brought back painful memories of Hurricane Katrina and our team quickly pivoted to help our neighbors over 190 miles to our west. Over 12,000 people and hundreds of pets whose lives were upended by Hurricane Laura were evacuated to New Orleans. In mere hours, we coordinated with state, city, and NGO partners to assist families and their pets. We helped over 800 animals, providing pet food, pet supplies, enrichment toys, and even preventative flea treatment. We also assisted hotels suddenly housing pets by providing free microchipping and vaccinations via pop-up clinics.
Natural disasters such as hurricanes and floods are out of our control. But planning for a disaster is something we can all do. Just like other members of your household, emergency planning for your pets requires supplies and advance preparation. The supplies you gather should be able to provide for your pet for at least five days.
While you prepare for a hurricane, ask yourself:
• Does your pet have up-to-date vaccines? Do you have copies of your pet's medical records?
• Are your pet's ID tags up-to-date?
• Does your pet have a microchip?
• Do you have a list of places to go that will accommodate your pet?
While preparing your evacuation kits, make sure to keep one for your pet as well! You want to bring all of their paperwork with you, and enough supplies to last at least five days.

These include:
• Food and water. Keep food in an airtight, waterproof container. Water for pets should be in addition to the water you need for yourself and family.
• Medicine and medical records. Keep an extra supply of medicine your pet takes on a regular basis in a waterproof container. All boarding facilities and veterinarian offices require proof of immunization before accepting animals.
• Collar with ID tag; harness or leash. Your pet should always wear a collar with its rabies tag and identification.
• Documents. Place copies of your pet's microchip information, registration, adoption papers, vaccination documents, and medical records in a clear plastic bag or waterproof container.
• Crate or other pet carrier. Carriers should be large enough for your pet to stand up, completely turn around and lie down. Mark your name, address, phone number and an alternate contact on the carrier.
• Sanitation. Include pet litter, newspapers, towels, plastic trash bags and cleaners in your evacuation bag so you can pick up after your pet.
The best way to stay safe is to prepare immediately. Don't let emergencies sneak up on you. For more information about planning for an evacuation with your pet, visit www.louisianaspca.org/evacuation. If you are a pet owner in Plaquemines Parish in need of evacuation assistance, please preregister with the Plaquemines Parish Health Department by calling 504-934-6690.