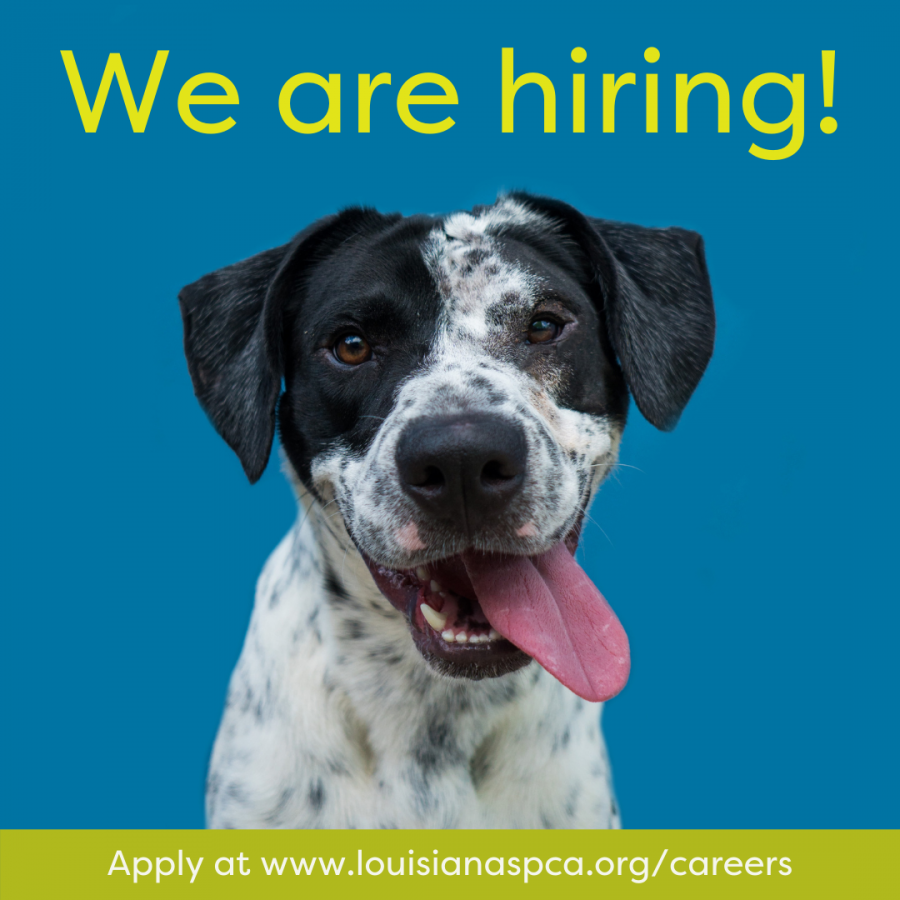 In 1888, the Louisiana SPCA was chartered with a simple mission: to protect animals. Over the years our mission has grown into promoting, protecting, and advancing the wellbeing of companion animals in Louisiana. While we are focused on animals, we couldn't do the work we do without the people who dedicate portions of their life to the mission. Whether it's volunteers or team members, our organization depends on people to help animals. We are currently accepting both new volunteers and permanent roles for our team!
Volunteer
To become a volunteer, please submit your application and attend the online orientation. There is a $40 fee associated with volunteering, which covers the cost of your own leash, apron, t-shirt, name tag, safety whistle and training. During orientation, you'll learn about our volunteer program and different ways you can get involved.
To be a volunteer you must:
• be at least 18 years old to volunteer without an adult;
• have parent/guardian consent and follow our Buddy System if ages 16 or 17;
• commit to at least 4 hours of volunteer work each month.
Types of volunteer opportunities:
• Dog walking and socializing provides our adoptable dogs with enrichment, exercise, and experience with people. Most dogs love walks and many that come into our care come from neglectful situations and are learning to trust people again. Providing those animals with walks gives them the specialized care they need.
• In the same way that socialization helps our adoptable dogs, it also helps the cats in our care. Providing quality time with people gives cats and kittens enrichment, play time, and social skills.
• Our adoptable animals would not be able to find homes without our volunteer photographers. Photographers of all experience level visit the shelter once a week to take pictures of each adoptable animal to give them the best-looking adoption profile as possible. We also use these photos to share animals on our social media accounts.
• While events are pretty much on hold at the moment due to the pandemic, we do have volunteer opportunities specific to events. This type of volunteering for our offsite events includes greeting people at the door or being an animal handler.
• Opening your home temporarily to a pet in need by becoming a foster parent is one of the most rewarding volunteer opportunities we have to offer. You can cuddle with adorable puppies, bottle-feed infant kittens, care for animals during a medical recovery, and even help us find them a human to call their own! By giving them a temporary home outside of the shelter, you have a direct impact on the animal's quality of life.
To become a volunteer and sign up for orientation visit
www.louisianaspca.org/volunteer
.
  Join Our Team!
We have tons of exciting positions currently available. Specifically, our shelter needs team members to join as Veterinary Technicians and Humane Law & Rescue Officers.
The Louisiana SPCA Community Clinic provides access to high-quality, high-volume spay/neuter services as well as preventative and essential veterinary care. Our veterinary technician plays a crucial role in keeping pets and owners united by providing exceptional medical and customer care to both owner and animal. The veterinary technician assists veterinarians during exams, treatment, and surgery, while also ensuring that the community clinic facility and equipment is clean and in good working order. The technician actively works to promote and support the Louisiana SPCA's programs and mission by educating our clients on the various resources and services that we offer.
To apply for these two positions, or any other available position, visit our website at
www.louisianaspca.org/careers
.